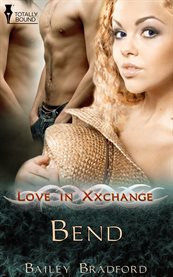 "Come on, baby," Annabelle gasped, "you know I'll ride you hard and dirty if that's what it takes! Uhn!" Her ass hurt, her thighs were screaming, and she was being pounded within an inch of her life. She was pretty sure her internal organs had been battered and were even now free-floating in her body, her ovaries and kidneys high-fiving each other as they switched spots. "Christ!" A particularly hard slam had her teeth snapping together and black dots dancing in her vision, but she was still...hanging...on! Take that, you stubborn, crazy- "Annabelle! What the fuck are you doing?" Rory yelled and diverted Annabelle's attention at the worst possible time. The horse beneath her kicked his back legs out at as he lowered his shoulders and twisted, then jerked and reared up-and Annabelle hit the dry, hard dirt with a bone-jarring thud that surely turned those floating organs into a sloppy pulp. "Annabelle! Shit! I told you to leave Manilo to me! He's too ornery and just too much horse for you!" Rory slid to his knees beside her, reaching for her before stopping with his hands just above her shoulders like he was afraid to touch. He should be, Annabelle fumed, despite the pain in her body. If he hadn't been such a damn momma about this, I wouldn't have been distracted. As much as she'd love to point that out to him, she wasn't sure she could even breathe yet, much less light into him. Somehow she managed to sit up and suppress the shudders that wanted to rip through her. Getting thrown sucked. Getting thrown while your hovering brother watched sucked stubby monkey toes. "Sis, how...where does it hurt?" Rory rolled his eyes at his question before Annabelle could. "Stupid question, I know. Manilo tossed you off like you were nothing, and you landed damned hard." "No kidding," Annabelle huffed out, the words scraping her throat. Was there nowhere on her that didn't hurt? "'Cause you screeched like a momma at me, distracted me. Thanks." Geez, her chest hurt. She glared at Rory until the prancing horse behind him caught her eye. Manilo looked inordinately pleased with himself, and in case she didn't get the visual clues, he nickered and tossed his head before bolting across the corral. Rory must have decided if she was well enough to snark at him, she was okay to touch. He grabbed her shoulders and shook her lightly. "If you hadn't got on Manilo like I told you not to, then there'd been no startling you, would there?" Annabelle groaned and knocked his hands away. "If you would stop treating me like a helpless female, then you wouldn't have screeched and scared the beejeezus out of me! I'd still be on Manilo!" Maybe. Manilo made a sound which she was sure was the equine version of laughter and reared up. Rory's hand on her cheek brought her attention back to him. The concern in his midnight eyes, so like her own, almost made her not quite furious with him. "I can't help worrying about you. You're the only sibling I have, the only family..." Rory's eyes grew damp and his lower lip trembled. Well, crap. That always kills my mad. "I know, but-" Annabelle raised her hand to cup his and hissed as pain shot through her wrist. Tendrils of heat speared down to her elbow and up to her fingertips. Rory rocked back on his heels as he chewed on his bottom lip. "You need to get checked out. Is that the worst of it, your arm...wrist?" he corrected when Annabelle shook her head. "Anything worse that would keep me from helping you up? I can call an ambulance." Rory glanced over his shoulder. "Chance!" "No," Annabelle muttered, because everything hurt, but her wrist was definitely throbbing in a worrisome way. "No ambulance. Just my wrist is all that's hurting." She could hear the heavy thud of boot step...
Searching for more content…
Publisher:
[United States] :, Totally Entwined Group Ltd :, 2011.
ISBN:
9780857156143
0857156144

Branch Call Number:
eBook hoopla
Characteristics:
1 online resource data file, rda
---
Opinion
From the critics
---
Community Activity
Notices
Add Notices
There are no notices for this title yet.
Quotes
Add a Quote
There are no quotes for this title yet.
Explore Further
Recommendations
Subject Headings

Loading...